Family Owned. Friendly Staff. Professional Service.
Blankenstein's a full service wholesale distributor for Restaurant, Industrial, and Water Treatment/Pool Care equipment, supplies, chemicals and gases. We have been serving the Miss-Lou area since 1893. We sell to individuals, businesses, organizations, and groups of all kinds. We have warehouse prices in a small town store atmosphere.
Don Blankenstein
Certified Building Professional (APSP) • Certified Pool Operator (NSPF)
Certified. Qualified. Responsive and Experienced.
Don Blankenstein is the fourth generation owner of Blankenstein's.
He holds the designation of Association of Pool & Spa Professionals (APSP) Certified Building Professional, Certified Service Technician, and is a Certified Maintenance Specialist. He is also a Certified Pool Operator by the National Swimming Pool Foundation (NSPF), so you know that the Blankenstein's crew is well trained and the right choice to handle your swimming pool investment.
A Storied History
Well over 100 years have passed since the Blankenstein family began serving the Natchez community and the Miss-Lou area as a wholesale grocery firm. Over time the company evolved into today's multifaceted operation…
Blankenstein's in Natchez Mississippi has been known and respected in the area since 1893. It was in that year that E. W. Blankenstein opened a wholesale grocery business in partnership with R. Viener on the west side of North Pine Street, between Franklin and Jefferson, mainly serving the needs of local grocery stores, country stores, restaurants and outlying farms.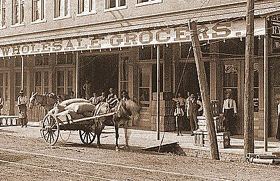 321 Franklin Street. Deliveries were made with mule drawn "drays."
The Interior of 321 Franklin Street.
In 1901, the business moved to 321 Franklin Street and for the next 63 years, operated out of a brick, two-story warehouse/storefront, similar to the 19th century warehouse buildings still in existence on Franklin Street today.
In the early days, staple products like flour and sugar were sold in barrels; hams were hung on the wall; potatoes, tobacco and canned goods were displayed on shelves and long, low, heavy display tables.
In 1921, E.W.'s son Rawdon graduated from the first Catholic college in the southeast, Spring Hill College (Mobile, Alabama). He then joined his father in the family business. Eighteen years later, E.W. died in 1939. Rawdon reorganized as F. R. Blankenstein Company and continued to operate the wholesale grocery firm.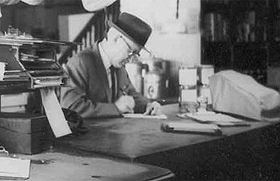 F.R. Blankenstein, Sr. works standing at tall shipping desk.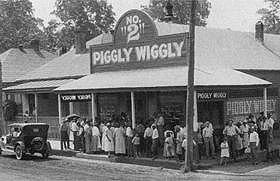 Corner grocery at St. Catherine and Fourth Streets c. 1920
The end of World War II ushered in the advent of new "supermarket" chains. Not only did these regional and national chains do their own wholesaling, they brought about the gradual decline of the small corner grocery stores and country stores that had been major customers for local wholesale grocers for half a century.
Blankenstein's realized the necessity for expansion into other fields to ride the tide of the changing local economy. It was Rawdon Blankenstein, Jr., grandson of the founder, who designed and implemented the business strategy of diversification that characterizes Blankenstein's to this day. Young Rawdon had excelled in chemistry and physics at Natchez High School, and then he studied accounting at L.S.U. He joined his father in the family business in 1949.
Soon, Blankenstein's began to handle and promote lines of restaurant and janitorial supplies and equipment, as well as water treatment chemicals, to meet the additional needs of their existing wholesale grocery customers, which included restaurants, churches, hospitals, schools and industries.
In the 1950s, Blankenstein's began supplying its restaurant customers with carbon dioxide for fountain drinks. This led to the realization that Natchez needed a local supplier of medical and welding gases. Blankenstein's responded by adding a full service welding supply business. Today, Blankenstein's is one of the largest and most complete sources of industrial, janitorial, restaurant supplies, gases and equipment in the area.
In the 1960s, the water treatment component of the business became the basis of expansion into the swimming pool field. Blankenstein's began providing equipment, chemicals and care to public and private pools, including motel and country club pools.
1966: Demolition of 321 Franklin Street revealed arched interior doorways.
In 1964, the wholesale grocery aspect of the business was finally liquidated. Also, the owners of 321 Franklin Street decided to sell the old building, which they had leased to the Blankenstein family since 1898. When the new owners demolished the historic building in 1966, architectural details such as arched interior doorways were revealed, indicating its possible earlier use as a stable or livery business.
In 1966, F. R. Blankenstein Co. purchased a lot next to Shaw's Foundry and across from the Natchez Pecan Shelling Co. on Broadway Street. Here they built modern offices and a warehouse to accommodate their diverse and expanding business needs.
In 1966, F. R. Blankenstein Co. purchased a lot next to Shaw's Foundry and across from the Natchez Pecan Shelling Co. on Broadway Street. Here they built modern offices and a warehouse to accommodate their diverse and expanding business needs.
Despite modernization, they incorporated some of the 321 Franklin Street furnishings into the new facility. Some of the tall shipping desks, roll top desks and wooden display tables from the 19th and early 20th century business are still in use at Blankenstein's today. The family has donated several of these pieces to the Historic Natchez Foundation for a planned museum on early Natchez businesses.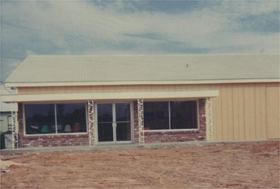 On Broadway in 1966: A new home for Blankenstein Industrial Supplies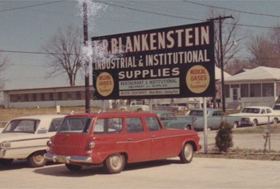 On Broadway in 1966: A new home for Blankenstein Industrial Supplies
In 1982, a fourth generation joined Blankenstein's. After attending the University of Southern Mississippi, F. R. (Don) Blankenstein, III joined the company. First, Don expanded the water treatment and swimming pool areas of the business. Then, he moved the company a natural step forward by adding swimming pool construction, hot tubs and spas to the well-established pool supply and servicing business.
Blankenstein's is now a Showcase Builder of Pacific Graphex in-ground pools. Don is a National Swimming Pool Foundation Certified Pool Operator. The ability to provide construction of these high quality pools and spas compliments the company's reputation for good service, hands on customer training and high quality chemicals, equipment and supplies for pools and spas. Customers are offered free water testing, use of a state of the art "Water Lab", and troubleshooting/diagnostics for various pool problems. Pool & spa safety is always a concern, and Blankenstein's sells and installs pool and spa safety covers in all shapes and sizes.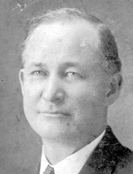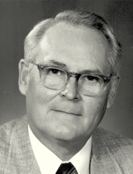 F. Rawdon Blankenstein, Jr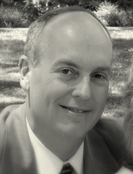 F. R. "Don" Blankenstein, III
Blankensteins.com | © 2019 | All Rights Reserved
Earning your business since 1893.
Mailing Address:
503 North Broadway • Natchez, MS  39120